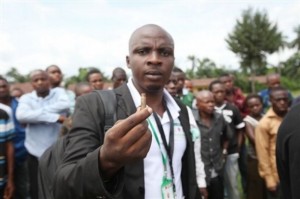 The Independent Electoral Commission (INEC) today (Thursday) announced that it is battling with partisan political manoeuvres and shenanigans in its quest to organize credible general elections in 2015.
Alhaji Olanrewaju Ayilara, the commission's Resident Electoral Commissioner (REC) stated this while speaking in Ibadan, the Oyo state capital.
Speaking at the August edition of the monthly meeting with the heads of federal establishments in Ibadan, he said in spite of the political melodramas, the commission remains committed towards ensuring credible and acceptable outcomes in 2015.
"To attain and achieve much more credible and acceptable outcome in 2015, INEC will continue to engage stakeholders in electoral process and democracy," he said.
He also expressed the commitment of the commission towards ensuring drastic reduction in the number of petitions arising from the conduct and outcome of the forthcoming 2015 general elections in Nigeria.